Warehouse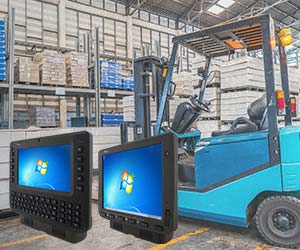 Warehouse environments in South Africa require fast and reliable data collection and real-time communication. This ensures that there is effective inventory management and asset tracking. Winmate has a number of rugged mobile devices, including mobile and vehicle/forklift-mount devices, which allow you to streamline ordering and inventory management and ensure optimum efficiency for your business.
Winmate's rugged mobile computers offer fully customisable and enterprise-ready solutions for freight tracking, fuel status, docking times, cargo temperature, and more.
With options for Windows and Android platforms, Winmate's rugged mobile devices provide flexibility and maximise fleet operational efficiencies, safety, and customer service – all while reducing costs.
Warehouse Applications for Winmate Devices
Asset management and tracking
Order selection and staging
Shipping and receiving
Inventory management and velocity of movement
Distribution visibility
Security and safety control
Quality assurance
Time keeping and attendance
Device Features
1D/2D barcode scanners and RFID readers
Sunlight-readable multi-touch displays
Wireless communications with options for WLAN, 3G/4G/LTE, Bluetooth, and GPS
Range of I/O ports for expansion options
Integrated cameras for data collection and video conferencing
Built to withstand the rigors of the warehouse industry