Transportation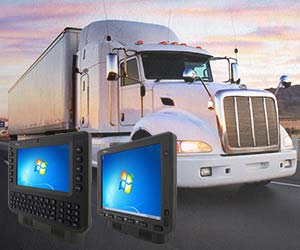 The transportation industry in South Africa is fast-paced and relies on the ability for drivers and dispatchers to communicate and transfer data to each other quickly and efficiently.
Winmate's rugged mobile technology, which includes rugged mobile tablets, handhelds, fixed-mount, and ultra-rugged tablets enables this real-time communication. This in turn ensures maximum operational efficiency, safety and customer service – all while reducing costs.
Winmate offers fully customisable, all-in-one solutions for freight tracking, fuel status, docking times, cargo temperature, and more. With options for both Windows and Android platforms, our rugged devices provide flexibility, extendibility and mobility.
Transportation Applications for Winmate Devices
Fleet management
Automated driver logs
Manage fuel consumption and idle time
Route optimisation
EOBR compliance
Location Based Services (LBS)
Driver communication
Truck maintenance
Device Features
1D/2D barcode scanners and RFID readers
Sunlight-readable multi-touch displays
Wireless communications with options for WLAN, 3G/4G/LTE, Bluetooth, and GPS
Range of I/O ports for expansion options
Integrated cameras for data collection and video conferencing
Built to withstand the rigors of the transportation industry